What to Do in Barcelona for Your First Time!
Barcelona was marvelous and it reminded me of busy NYC. We came at a perfect time because in September, if you're lucky, the weather is a perfect crisp 70-75 Fahrenheit. We stayed in an Airbnb in Poblenuo which was a 15-30 minute walk to pretty much everything you needed to do/see. This area was near the beach (5-10minute walk) and so inexpensive compared to the other Airbnb's we were shopping around for.
So let's discuss my favorite spots and things to do whilst you're in Barcelona. For a first timer, I wanted to do the proper amount of touristy things, but also a proper amount of relaxing. On this trip we did not rent a car, we walked everywhere and I mean everywhere. We averaged 7 miles a day via my health app so if you ain't about that life, have no fear they got Uber girl!
Places to eat:
Remember to make sure to look up times before heading over to any restaurant in Barcelona because hours are different and they usually open later and close early. If you're trying out a restaurant because you walked by and it looked appealing, do yourself a favor, and CHECK reviews first. Also the tipping rule is to tip 1-2 euros per person eating unless it's a more upscale restaurant. Service is usually slow, but don't let this reflect on your tip as this is the norm in lifestyle.
Little Fern - New Zealand style cafe in the heart of Barcelona's art district, Poblenou. The dishes were so yummy and the interiors were lit for an IG flick.
EatMyTrip Brunch & Bakery - Trendy little brunch spot! They say in Europe iced coffee isn't a thing, but this placed made an amazing iced coffee where sugar wasn't even required.
Hammock Juice Station - So this place was adorable! Hammocks as chairs and the staff was extremely friendly. I highly recommend!
Can Dende - Nomnom! I loved this place! I felt the staff here was the most friendliest and the food was tasty. Most of the places I went to had outdoor seating btw so soak up the sun and drink yo dranks with your pinkies up.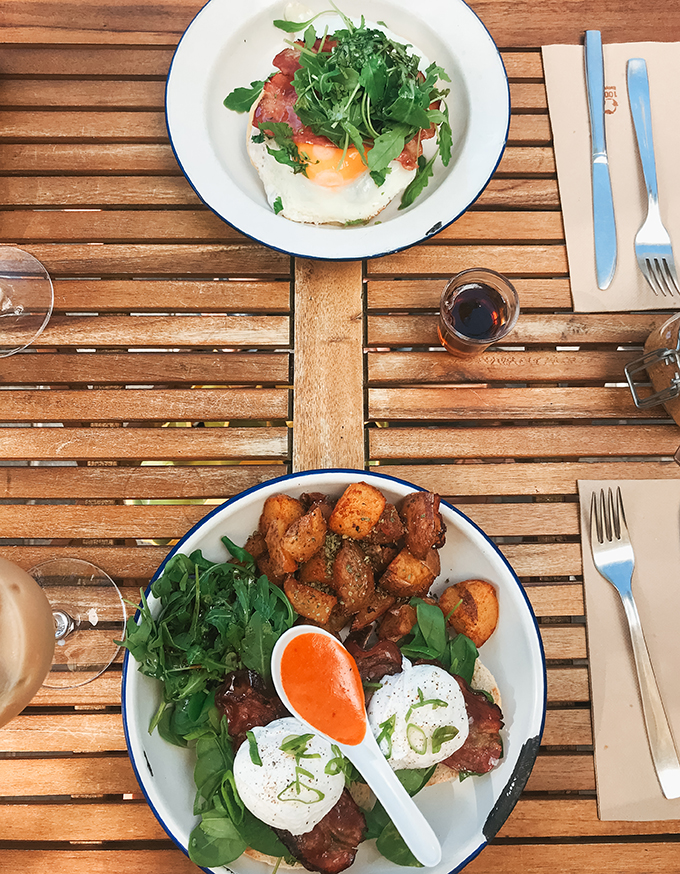 Flax & Kale - I didn't get to go here, but I heard some amazing things! Healthy, trendy and super popular spot for your IG stories flex.
Mana 75 - Okay so PAELLA!! There was literally sooo many options our heads were spinning on which spot to go to for a more fancy date night that justified me wearing this little red number from PLT. In the end, we chose Mana 75 because of the reviews, prices and interior aesthetics.
Things to do:
Playa De La Bogatella/ La Barceloneta Beach - To be honest, the whole strip of beaches were fabulous! You can opt to rent out chairs or bring your towels, both options are just fine. Most places charge 10 euros per chair and 10 euros for the umbrella. Some places even offer up specials like a drink per chair so we did this twice.
Barcelona Cathedral - Is it worth the 7-10 euros to get in and also go to the rooftop? I don't know, we were horrible tourists. I'm sure the inside was gorgeous, but the lines were not. Instead we decided to go to the rooftop bar, Hotel Colon directly across from the Cathedral to shoot and grab a drink. IT WAS EMPTY, nobody was there and so I grabbed my shot and sipped on my beer whilst taking in such a breathtaking sight.
Basilica De La Sagrada Familia - CHILD. Antoni Gaudi is truly a genius. The architecture was incredible. Word on the street is it'll be finished by 2026 roughly 100 years after his death.
Park Guell - A little further out to walk, but cabs were 12 euros from where we stayed so it wasn't too bad. Locals say this park is rather expensive for what it is, a whooping 7.50 euros for general admission or 14.50 for a guided tour and you have to book your time slot in advance and show up within the time period. With it being under construction a few people were very displeased. There is a free part of the park and it was very beautiful as well if you want to opt to do that instead.
Casa Batllo - While we thought Park Guell was expensive, Casa Batllo was 24.50 euros to get in. Most of these places require tickets, please purchase them in advance because they're more at the ticket office when you arrive. A modernist building in the center of Barcelona near all the shops, it was truly a masterpiece.
Picasso Museum - We lucked out! First Sunday of each month and Thursday evenings you can get free entry when booking in advance otherwise tickets are 12 euros. There was no phones/cameras allowed, but let's just say it's worth the price if you aren't able to score free entry.
Palau de la Música Catalana - This is a concert hall designed in the Catalan modernista style. If you're looking to go in general tickets are 20 euros.
Pro tip:
Theft is a real thing, a lot of my coworkers went to Europe on our break and had things stolen. Make sure to carry everything in your front pocket and keep your bags closed and near. It's not expert advice, but things happen so just be smart about opening up your wallet in public or carrying your camera/phone out without watching your surroundings.
We spent a week in Barcelona and felt like that was plenty of time to explore, relax and see pretty much everything on our list. I do wish we saw a few things like Tibidado, but next time!